Aerospace: Engine Component
Jet Engine Fairing Component
CLIENT: Major Aircraft Engine Manufacturer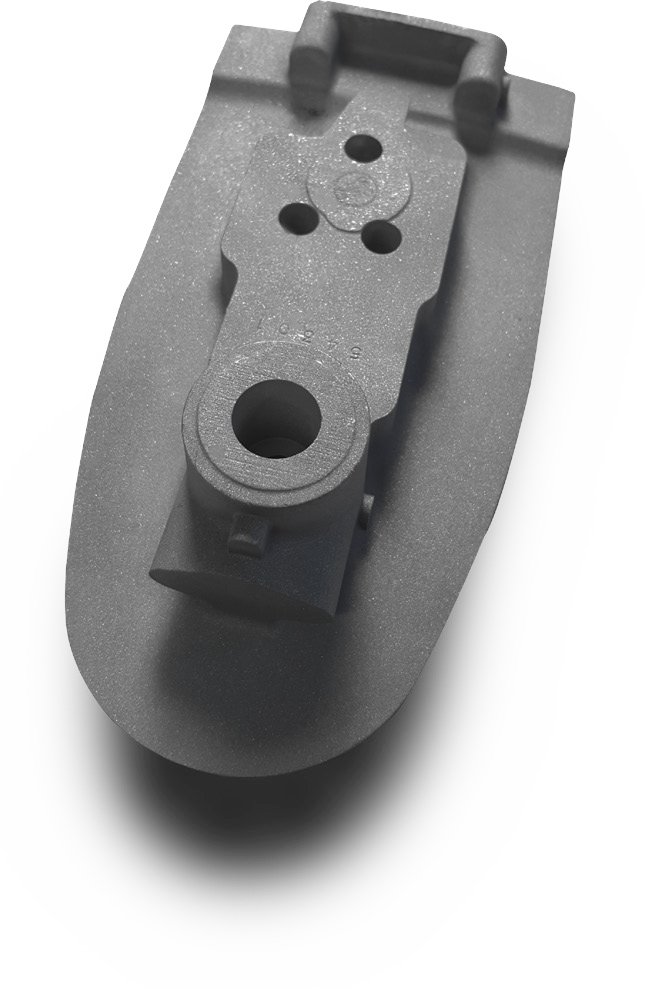 Challenge
"BETTER QUALITY. BETTER PROCESS"
Eliminate the root cause of scrap and achieve improved metallurgical quality to meet stringent aviation standards.
Constraints
MATERIAL: 355 Aluminum
WEIGHT: 0.5 lbs
DIMENSIONS: 9" x 4" x 2"; 0.060" wall in flange
FUNCTIONAL COUNTER-GRAVITYTM ("FCG")
DP Cast introduced Functional Counter Gravity TM ("FCG") technology, a proprietary fill-control system, to its manufacturing process

Results of Liquid Penetrant Inspection on ALL components tested have been excellent

Reduced labour hours, resulting in cost savings for end customer

Don't "inspect" quality into a product; BUILD IT.

The introduction of FCG paves the way to further technological and operational excellence in this competitive industry

Aircraft-Certified | Reduced Production Time | Exceptional Value, Quality and Reliability
NON-DESTRUCTIVE TESTING AT SOURCE – LIQUID PENETRANT INSPECTION ("LPI")
Aerospace: Spray Nozzle
Housing - Oil Nozzle
CLIENT: Major Aircraft Engine Manufacturer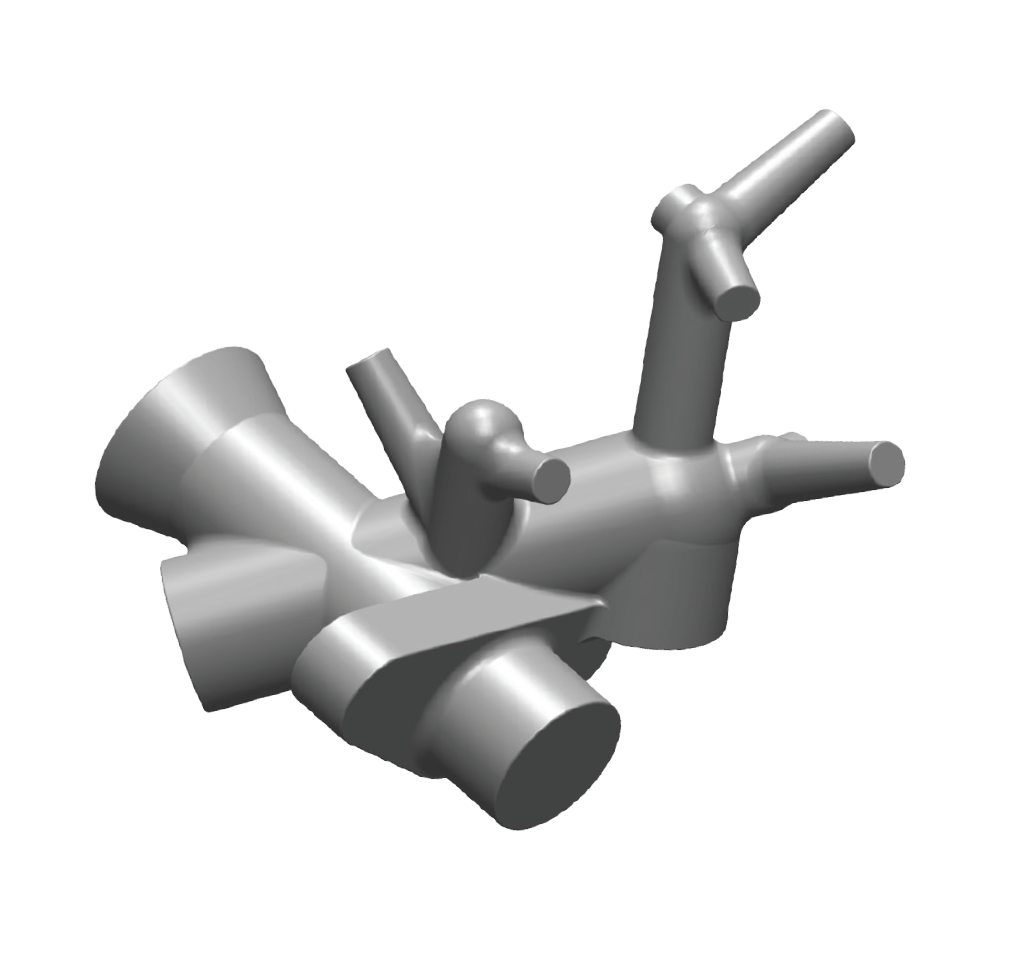 Challenge
A major aircraft engine manufacturer required a lubricating spray nozzle for an aerobatic turbo-prop with a short lead-time, despite the complexity of creating a mold with more than 20 individual pieces. As with most industry parts, it had to meet precision tolerances and undergo rigorous testing.
Constraints
DELIVERY: Aggressive timeline
DESIGN: 1000th of an inch
MATERIALS: 356 aluminum
WEIGHT: 0.25 lbs
Solution
DP Cast was able to deliver in half of the projected time, by utilizing its in-house mold-making facility. Another differentiator is the ability to conduct non-destructive testing, liquid penetrant inspection, X-Ray, and spectrometer alloy-certification on-site — essential to the process for this intricate part. DP Cast employed specialized, in-house developed tools to ensure the nozzles are straight and design specifications are met.
NON-DESTRUCTIVE AND MATERIAL / ALLOY TESTING AT SOURCE
Aerospace: Engine Elbow
Lubrication Delivery Elbow
CLIENT: Major Aircraft Engine Manufacturer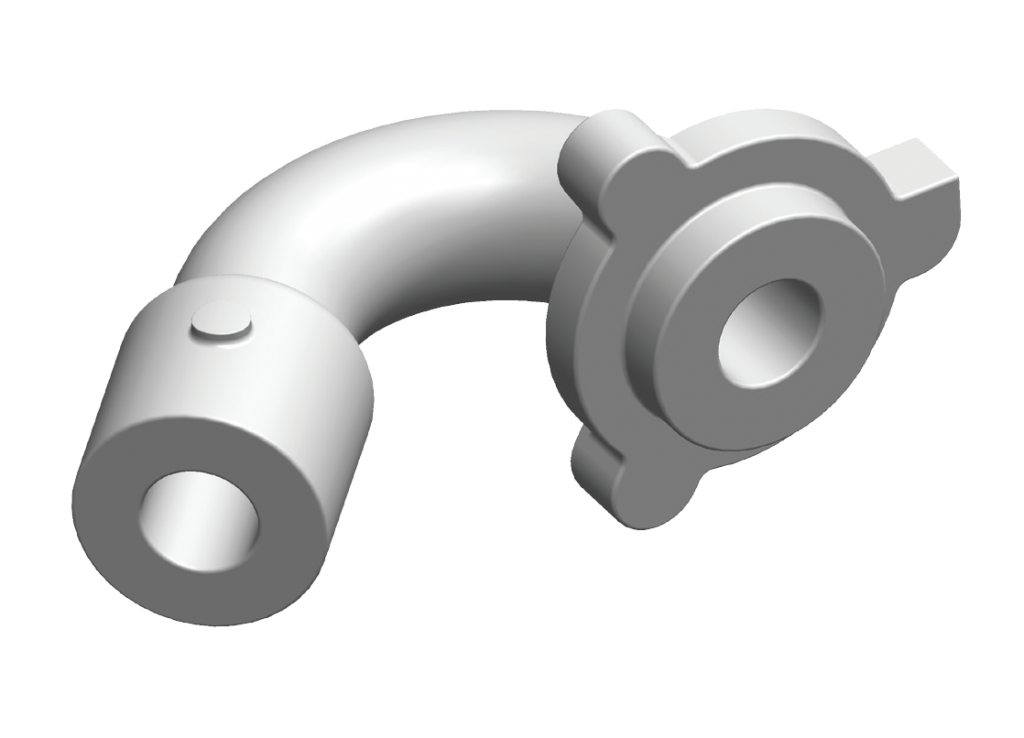 Challenge
A new turbo-prop engine design required a lubricating-system elbow, featuring an intricate and smooth passage for oil delivery. This component needs to meet stringent aviation standards. For example, in the event of an engine fire, it must contain oil while withstanding temperatures of 1500°F. Machining was not a viable option of manufacture, as it does not allow the fabrication of a return bend and would produce sharp angles, creating vortices and restricting flow of fluid.
Constraints
PERFORMANCE: Meets aviation certification requirements
DESIGN: Complex oil cavity
MATERIAL: 347 Stainless Steel
WEIGHT: 0.7 lbs
Solution
DP Cast created an elbow with smooth passages that allowed for improved fluid dynamics and oil delivery. Advanced casting methods produced 0.080-inch-thick walls, reducing weight without compromising strength. In-house certified personnel conducted non-destructive testing, liquid penetration inspection, X-Ray, and spectrometer alloy certification — all to exacting industry standards.
UNIQUE PARTS OPTIMIZATION CAPABILITIES FOR A "ZERO FAILURE" TOLERANCE SECTOR
Film: Camera Handle
Camera Zoom Grip Handle
CLIENT: Major Studio Supplier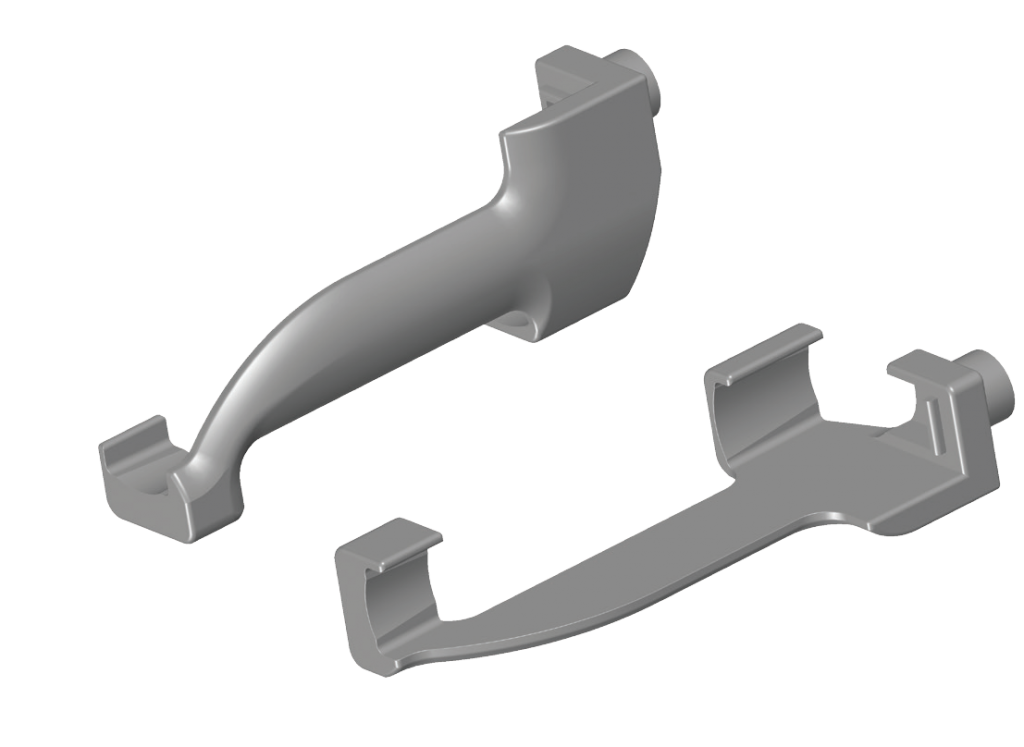 Challenge
Camera operators and film directors must maintain a steady, comfortable grip while operating a number of camera switches, in order to get a perfect shot. DP Cast was approached by a major industry supplier to design, prototype, and manufacture a unique camera handle that would offer uncompromising ergonomics, aesthetics, and be fully compatible with existing camera control units.
Constraints
PERFORMANCE: "Plug & play" integration with existing components
DESIGN: 100% custom, lightweight, natural feel
MATERIAL: 356 aluminum
WEIGHT: 0.6 lbs
Solution
With no analogous products on the market, DP Cast created a completely custom-built component, leveraging prototyping and design expertise to influence the part, resulting in an ergonomic handle that accommodates three different control units and is currently used on major movie sets.
DESIGN ASSISTANCE TO INFLUENCE — AND OPTIMIZE — EACH PART
Medical/Health Care: Prosthetic Knee
All-Terrain Knee: A First in Mechanical Knee Technology
CLIENT: Creator of a Next-Generation Prosthetic Knee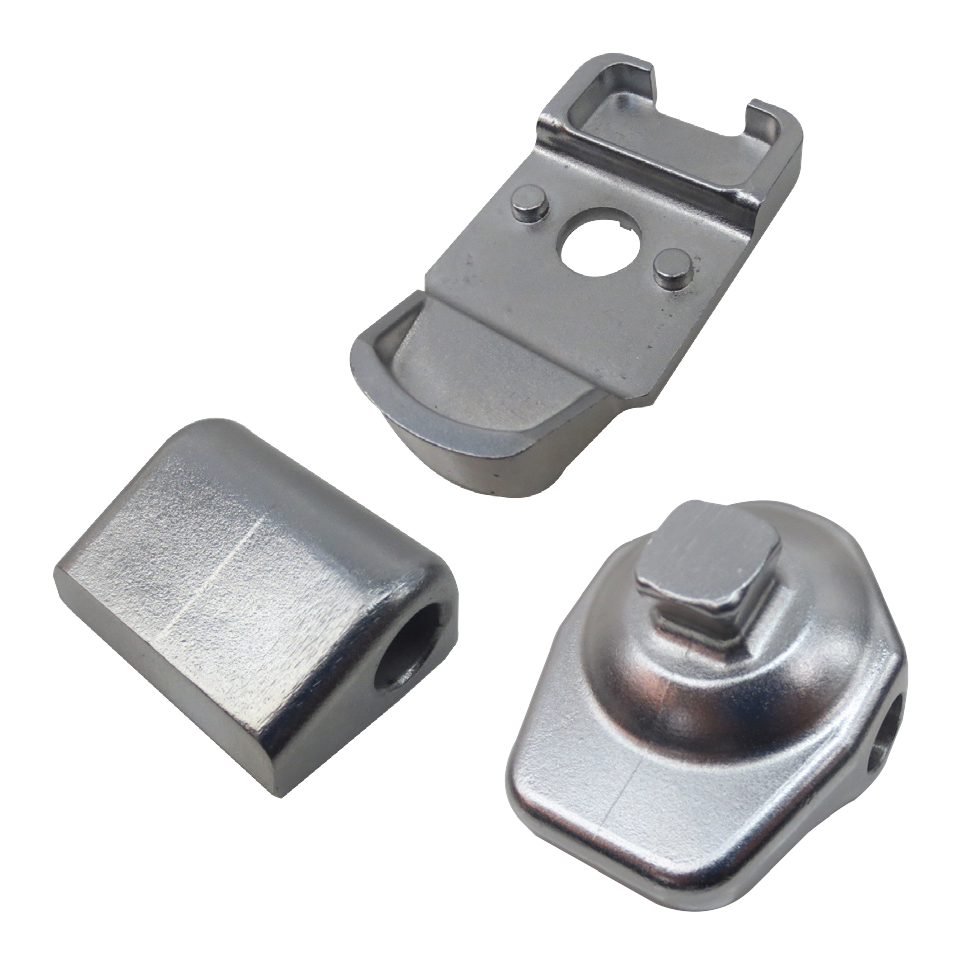 Challenges
Develop an innovative, lower-cost alternative to the cost-prohibitive products that exist for lower-limb amputees while avoiding the long lead times from offshore manufacturers and achieve improved metallurgical quality.
Constraints
PERFORMANCE: Technical excellence with labour and material efficiency
MATERIAL: 17-4 PH® Stainless Steel
High-functioning, lightweight, non-hydraulic, waterproof components

Better stability due to proprietary autolock technology

Improved walking speeds through variable cadence controller

Reduced manufacturing lead times
DESIGN ASSISTANCE, IN-HOUSE MOLD-MAKING
Marine: Crimping Tool
Body – Hydraulic Crimping Tool
CLIENT: Maritime Manufacturer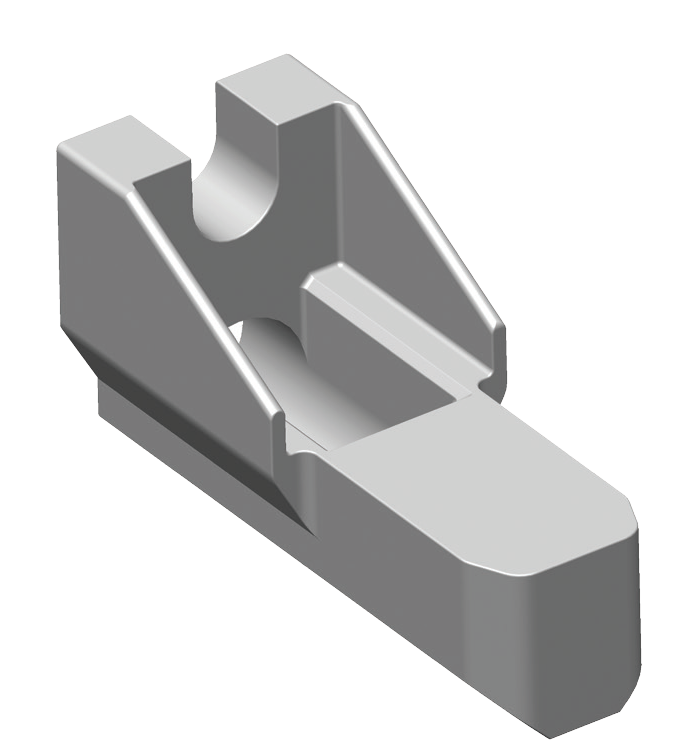 Challenge
Plumbing joints in highly specialized applications, such as Marine, Oil & Gas, and Medical, are created with a hydraulic crimper, which applies extreme pressure to make a perfect seal that guards against fluid and gas leaks. The casting for this tool must be solid. No porosity is acceptable, as a hydraulic leak would damage the piston seals.
Constraints
PROCESS: Solid-piece casting / machining
PERFORMANCE: Maintain extreme pressures
MATERIAL: 17-4 PH® Stainless Steel
WEIGHT: 3.0 lbs
Solution
DP Cast was able to achieve the ship builder's objectives by using a high-strength Precipitation Hardening alloy. Although stainless steel does not generally lend itself to machining, the metal used by DP Cast machined well, and delivered a low-friction finish that maintained a seal under extreme pressures, avoiding the weeping/leakage issue previously experienced by the client.
SPECIALISED IN-HOUSE CAPABILITIES FOR TIGHT TOLERANCE WORK AND A WIDE RANGE OF ALLOYS
Oil & Gas: Oil Pump Guide Support
Oil Pump Guide Support
CLIENT: Manufacturer of Mining equipment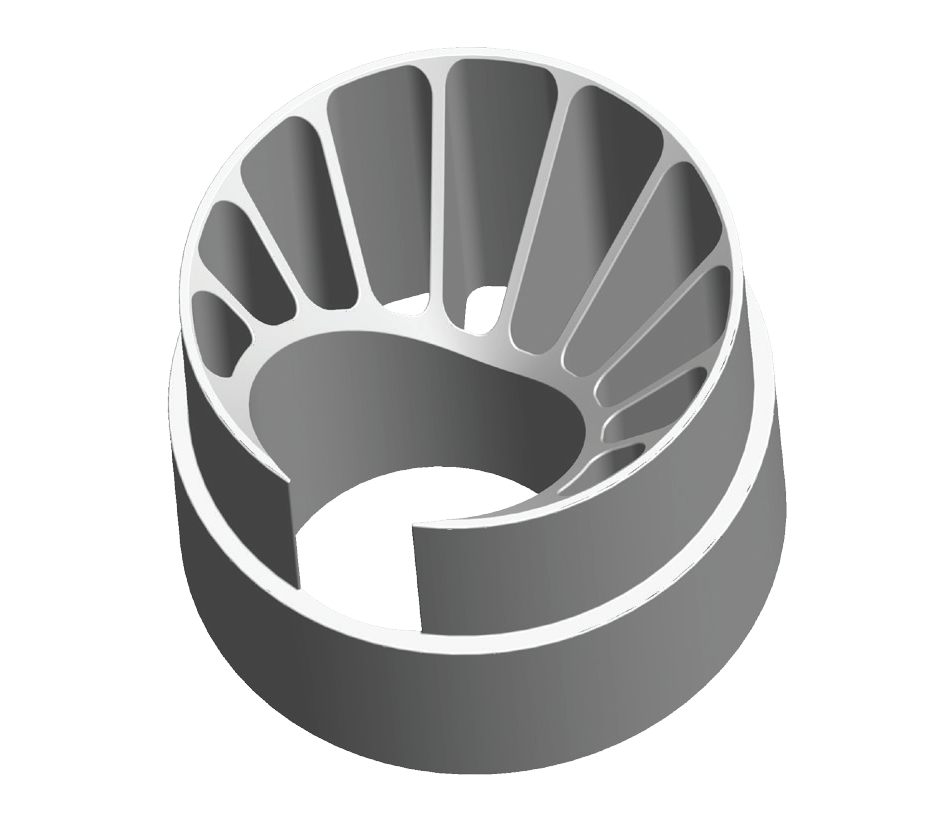 Challenge
The complex process of Steam Assisted Gravity Drainage (SAGD) oil extraction depends on durable equipment and solid-piece componentry. The oil pump guide support is traditionally machined from a solid piece of metal; however, its design features several long and deep pockets that make it a very labour-intensive and costly part to produce.
Constraints
PERFORMANCE: Meets or exceeds original
COST: Less than machined part
MATERIAL: 4140 Steel
WEIGHT: 4 lbs
Solution
Utilizing the investment casting process, guide supports became less expensive to produce than a machined piece, while meeting all exploitation parameters. The in-house mold-making facility at DP Cast also allowed for an efficient production timeline.
A MINING INDUSTRY GAME CHANGER