Zero failure tolerance is our constant.
Get a better view into our in-house, aircraft quality, custom offering and process.
3D Printing
We're pleased to announce that we have take delivery of a Makerbot Replicator Z18 3D Printer. Our 3D printer allows us to 3D print 12`` x 12`` x 18``. Using filament, this 3D printer will be helpful to our clients, including:
Aerospace Quality
Our precision parts – and the processes behind them – are built to meet aerospace industry specifications and standards. At DP Cast, process control is paramount, resulting in more value-added products and services for our customers.
Excellent Mechanical Properties
Working closely with leading clients in aerospace — an industry requiring high-integrity components — we've systematically applied our proprietary fill-control system, known as Functional Counter GravityTM, to help eliminate the sources of mechanical property variations that can lead to major fatigue in safety–critical parts. As a result, we now offer complex, precision components with enhanced physical properties to suit your specifications. Click here to learn more.
Aerospace
In September of 2017, our facility in Brampton, Ontario was awarded independent ISO 9001:2015 and AS 9100D Certification by the prestigious Bureau Veritas. A management system certified by Bureau Veritas certification is recognized worldwide as a symbol of excellence. While our precision parts – and the processes behind them – have always been built to meet stringent aerospace industry specifications, this milestone places DP Cast among an elite group of companies that adhere to established international quality standards, as a sign of our Company's commitment to quality. The distinction of this awarded certification underscores DP Cast's ongoing focus on professional business practices, consistent results, process controls and continuous improvement throughout all stages of parts development, design assistance, production and delivery – meeting industry demand and exceeding ever-growing client expectations for the highest level of quality.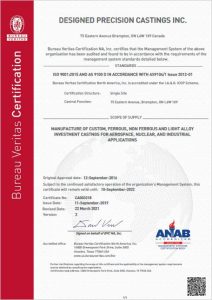 ISO9001:2015 and AS9100D Certification
Mold Making
Our in-house mold-making facilities result in a quality mold, delivered in a timely manner under DP Cast's direct control CNC machining centre, combined with Solidworks and Surfcam 3D software allows us to accept your computer file electronically for manufacture. No matter your requirement, at DP Cast, we have the ability to design, maintain, repair and modify your molds as required.
Design Assistance
At DP Cast, we don't just execute your design – we influence it through applied engineering, prototyping, tooling, thorough review, testing and design innovation. Our involvement during the concept stage allows us to identify ways to reduce time and post processing costs, such as machining, fabrications and weldings, resulting in a higher-quality part.
Design Optimization
Investment casting allows for fabrications involving the joining of two or more parts to be cast as one piece, saving clients both time and money. Moreover, the elimination of expensive turning, milling, welding, drilling, etc. can, in certain cases, eliminate the need for all finishing.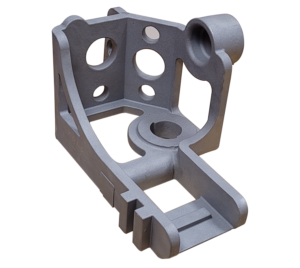 Non-Destructive Testing
An audited supplier to the aerospace industry, DP Cast provides comprehensive, non-destructive testing (and non-destructive testing at source), with Level III, CGSB, ASNTSNT-TC-1A and NAS410-certified personnel, equipment and facilities, to all of our customers, regardless of sector in the following methods: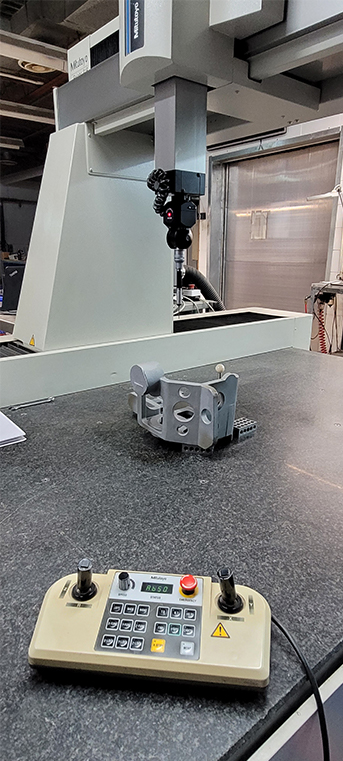 Melt & Pour
All of our castings are produced onsite from molds made at our facilities in Brampton, Canada and poured from our 5 melt furnaces:
Quality Assurance
DP Cast's quality assurance personnel are delegated and approved by Aerospace OEM's to act on their behalf as quality representatives. Our facility features a comprehensive Preventative Maintenance Program, as well as a Measuring and Test Equipment Control Program, and 3D surface profile measurement and dimensional inspection capabilities through Coordinate Measurement Machine (CMM) Metrology to verify part dimensions. We can supply testing and laboratory services, including chemical analysis (spectrographic and metallurgical) and mechanical testing for tensile and hardness, traceable to American NIST standards to verify as cast and heat treated conditions of castings. DP Cast is Qualified as a Laboratory Control at Source and Non-Destructive Testing at Source provider for select clients.
Alloys
At DP Cast we pour a wide range of alloys:
Alloy
UNS
Specification
Condition
Ultimate Tensile Strength Min KSI
Yield Strength Min KSI
Elongation %
Remarks
1020
ASTM-A-732 1A/ASTM A216 WCA
Normalize & Temper
Low Alloy Steels
1025
ASTMA 216 WCB
Normalize & Temper
Low Alloy Steels
1030
ASTM-A-732
Quench & Temper
75
48
25
Harder carbon steel
Low Alloy Steels
1040
ASTM-A-732
Quench & Temper
Low Alloy Steels
1045
ASTM A487 DN
Quench & Temper
Low Alloy Steels
1050
ASTM-A-732 4A/4Q
Quench & Temper
Low Alloy Steels
4130
ASTM-A-732 7Q/AMS 5336
Quench & Temper
180
145
5
Strong, hard, wear and fatigue- resistant
Low Alloy Steels
4140
ASTM-A-732, A958
Quench & Temper
Low Alloy Steels
4340
ASTM-A-732 10Q/AMS 5330
Quench & Temper
Low Alloy Steels
4615
ASTM-A-732
Quench & Temper
190
170
4
Hard and strong
Low Alloy Steels
6150
ASTM-A-732 12Q
Quench & Temper
105 
 85
10 
Good blend of properties 
Low Alloy Steels
8620
ASTM-A-732 13Q/AMS-S22141
Quench & Temper
Low Alloy Steels
8630
ASTM A732 14Q/AMS5334
Quench & Temper
Low Alloy Steels
8640
AMS-S-22141
Quench & Temper
Low Alloy Steels
9310
Case Hardening Steel
Low Alloy Steels
52100
ASTM A732 15A
Normalize & Quench
Bearing Steel
Low Alloy Steels
A2
CA-2
ASTM A-597
Annealed/Quench & Temper
Tool Steels
D2
CD-2
ASTM A-597
Annealed/Quench & Temper
Tool Steels
O1
CO-1
ASTM A-597
Annealed/Quench & Temper
Tool Steels
C5
CS-5
ASTM A-597
Annealed/Quench & Temper
Tool Steels
H13
CH13
ASTM A597
Anneal/Quench & Temper
Tool Steels
303
CF16
ASTM A351, A743, A744, AMS 5370/1
As cast/Solution annealed for improved corrosion resistance
70
30
35
Stainless (Austenitic) Steels
304
CF8
ASTM A351, A743, A744
As cast/Solution annealed for improved corrosion resistance
70
30
35
Stainless (Austenitic) Steels
304L
CF3
ASTM A351, A743
As cast/Solution annealed for improved corrosion resistance
Low Carbon
Stainless (Austenitic) Steels
309
GH20
ASTM A351, A743
As cast/Solution annealed for improved corrosion resistance
Stainless (Austenitic) Steels
310
CK20
ASTM A351, A743, A744, AMS 5365/66
As cast/Solution annealed for improved corrosion resistance
70
30
30
Molybdenum Modified
Stainless (Austenitic) Steels
316
CF8M
ASTM A351, A743, A744/MIL-S-81591
As cast/Solution annealed for improved corrosion resistance
70
30
30
Stainless (Austenitic) Steels
316L
CF3M
ASTM A351, A743, A744
As cast/Solution annealed for improved corrosion resistance
Low Carbon
Stainless (Austenitic) Steels
317
CG8M
ASTM A351, A743, A744
As cast/Solution annealed for improved corrosion resistance
Stainless (Austenitic) Steels
321
MIL-S-81591
As Cast/Solution annealed for improved corrosion resistance
70
30
30
Stainless (Austenitic) Steels
347
CF8C
ASTM A351 743/AMS 5362/5364
Solution Annealed
Niobium Modified
Stainless (Austenitic) Steels
Alloy 20
CN7M
ASTM A351, A743, A744
As Cast/Solution annealed for improved corrosion resistance
Stainless (Austenitic) Steels
410
ASTM A743 A217/AMS 5350
Harden & Temper
95
75
8
Chromium (Martensitic) Steels
416
AMS 4349
Harden & Temper
95
65
8
Chromium (Martensitic) Steels
420
CA40
ASTM A743
Harden & Temper
Chromium (Martensitic) Steels
436 (Greek Ascoloy)
AMS 5352, MIL-S-81591
Homogenize/Austenatize & Temper
145
115
10
Chromium (Martensitic) Steels
440C
ASTM A-743/AMS 5352
Annealed/Harden & Temper
Chromium (Martensitic) Steels
442
 CB30 
ASTM A-743
Annealed/Harden & Temper
175
150
5
Chromium (Martensitic) Steels
15-5PH
CB7Cu-2
ASTM A747/AMS 5347/56/57
Solution Anneal & Precipitation Harden
90
65
18
Precipitation Hardening Stainless Steels
17-4PH
CB&CU-1
ASTM A747/AMS 5342/43/44/55
Homogenize/Solution anneal & Precipitation Harden
180
160
6
Precipitation Hardening Stainless Steels
C355
AMS 4215, ASTM B-618/B26
T6
37
30
1
Aluminum Alloys
C356
AMS 4260 ASTM B616/B26
T6
33
22
3
Aluminum Alloys
F357
AMS 4289
T6
41
32
3
Aluminum Alloys
85-5-5-5
C836
ASTM B584
Copper Alloys
MnBronze
C863
ASTM B584
Copper Alloys
SiBrass
C873/4
ASTM B584
Copper Alloys
SiBronze
C876
ASTM B584
Copper Alloys
Cobalt 6
AMS 5387
As Cast
Hardness HRC37 min.
Cobalt Alloys
Cobalt 12
AMS 5382
As Cast
Cobalt Alloys
Alloy 31
AMS 5382
As Cast
Cobalt Alloys
Alloy 400
MONEL M30-C (N24130)
ASTM A494
Solution annealed
Nickel Alloys
Alloy 411
N-12MV
ASTM A494
Solution annealed
Nickel Alloys
Hastelloy B
N-7M (N30007)
ASTM A494
Solution annealed
Nickel Alloys
Inconel 600
CY40
ASTM A494
Solution annealed
Nickel Alloys
Inconel 625
CW6MC
AMS 5599/ASTM A494
Solution annealed
Nickel Alloys
Hastelloy C mod
CW-2M (N26455)
ASTM A494
Solution annealed
Nickel Alloys
Engineering
Our engineering development team uses the latest hardware and software tools to ensure the casting process produces acceptable metallurgical and dimensional characteristics that meet all drawing, design and specification requirements: